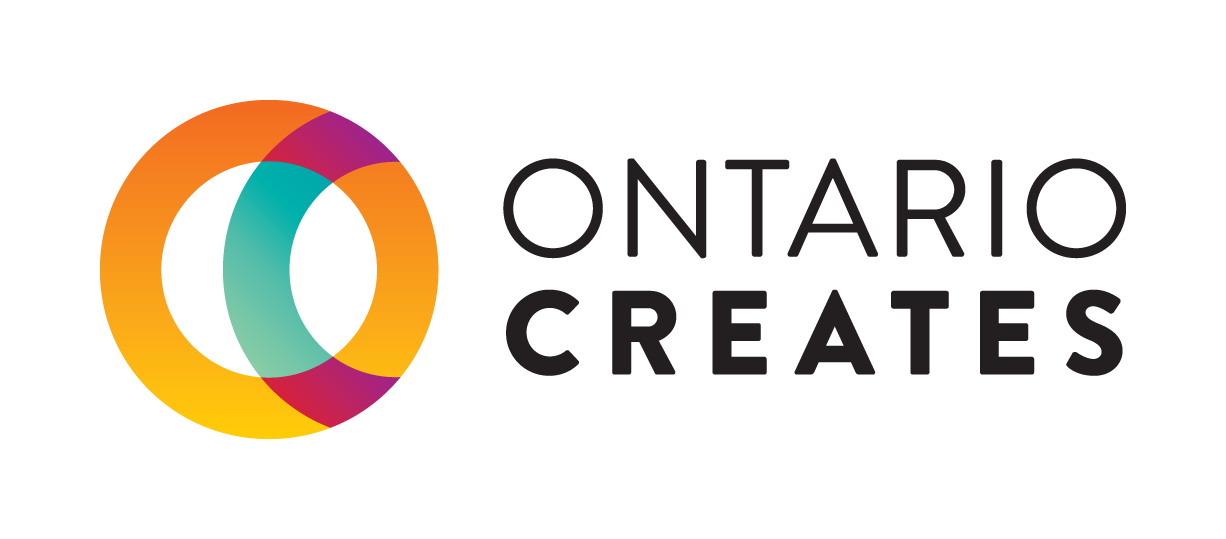 Industry Profile - Interactive
Interim Update to January 2019 Profile
September 2019
January 2019 Profile
Introduction
The term interactive digital media (IDM) accounts for a range of digital content and experiences available through a variety of digital platforms such as PCs, mobile devices and game consoles. IDM in Canada is a growth industry that is quickly changing, driven by shifts in consumer behaviour and technology. IDM content includes but is not limited to video games, cross-platform entertainment, virtual and augmented reality content, web series, and e-learning and training products.
Industry Size and Economic Impact[1]
Revenues, Production Volume, and Employment
According to Statistics Canada, interactive media products generated $5.4 billion in gross domestic product (GDP) and more than 45,180 jobs across Canada in 2016. Ontario's share was nearly $2.7 billion in GDP and almost 20,000 jobs.[2]
A 2017 study conducted by , found that there are 877 IDM companies in Ontario, and that the IDM industry in Ontario employs approximately 10,900 full-time equivalent (FTE) employees, with 70% of employment attributable to the largest 12% of IDM firms, those employing 20 FTEs or more. Ontario's IDM industry generated an estimated $1.27 billion in revenues and contributed an estimated $1.4 billion to provincial GDP in 2015. Interactive Ontario[3]
Canada exports a significant volume of interactive media. In 2016, Canada exported an estimated $1.09 billion in interactive media products, primarily to the United States ($401 million), as well as China ($140 million in exports) and the United Kingdom ($45 million in exports).[4]
According to the most recent available data, Ontario exports $654.8 million per year in interactive media products to other Canadian provinces.[5]
The digital media components of traditional broadcast television productions are referred to as convergent digital media (CDM). Project types include web series, rich interactive media, video, games, and social media. The 's Canadian Media Producers Association (CMPA)Profile 2017 estimated the Canadian CDM industry's production volume in 2016/17 at $68.9 million, up 5% from 2015/16. In 2016/17, there were 264 CDM projects produced, 19% fewer than the previous fiscal year, but average project budgets grew 30% to $261,000. (Web series budgets were on average nearly 3 times the size of any other CDM project type). In 2016/17, convergent digital media generated an estimated 1,070 FTEs.[6]
Virtual reality (VR) includes a range of immersive experiences from 360 degree "spherical" video on a laptop, desktop or mobile device, to mobile VR via a head mounted display, to a PC based headset experience. Pulse on VR, a recent study of the VR landscape in Canada, found that most companies engaged in VR product and service development had this as one of several lines of business. The over 200 companies that responded to the study's survey reported over 1,300 VR-focused employees (out of a total of over 14,000 employees). Ontario had the largest net number of VR employees, while Québec had the largest share of employees focused on VR at 30%.[7]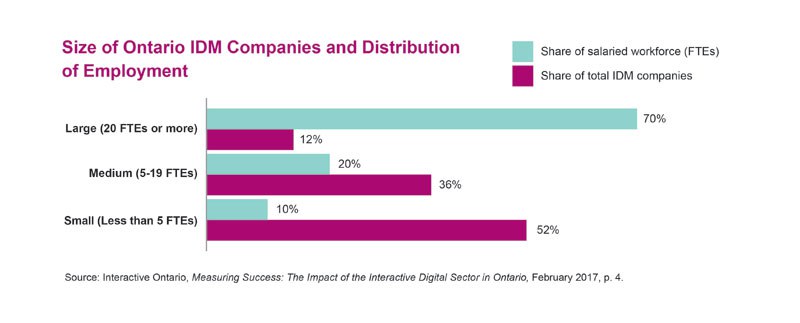 Videogame Industry
In 2018, worldwide digital games revenue was up 11% year-over-year to US $109.8B. Mobile games made up the greatest proportion of revenues, and the free-to-play market was worth 80% of the total market at US $87.7B. Consumers in Asia contributed 62% of revenues. Free-to-play console games rose to prominence in 2018 with the explosion in popularity of Fortnite, which had revenues grow more than four-fold year-over-year.[8]
With a videogame market valued at US $2 billion in 2017, Canada is currently in 8th position among countries worldwide for video games consumer market revenue. The United States, China and Japan have substantial leads compared to other jurisdictions, with the U.S. market alone worth in excess of US $23 billion in 2017.[9]
A 2017 report by the estimates that Canada's videogame industry employs 21,700 FTEs directly, as well as generating an additional 19,000 FTEs in the wider economy. The national videogame industry spent $2.6 billion in 2017, an increase of 8% from 2015. As of 2017, the average annual salary of a Canadian videogame worker was $77,300, up 8% from 2015. As measured by number of employees, Ontario's videogame industry is the third largest in the country after Quebec and British Columbia, with 171 firms directly employing 3,800 people. Entertainment Software Association of Canada (ESAC)[10]
Canada's videogame industry consists of approximately 600 studios.[11] Canada is home to several top international videogame developers, including with locations in Montreal, Quebec City, Halifax, and Toronto, Ubisoft in Burnaby, Montreal, Kitchener, Charlottetown and Edmonton and Electronic Arts in Montreal and Toronto. Social game publisher Gameloft and Zynga each have studios in Toronto. Rockstar Games
Canadian game companies' revenues are highly dependent on export. In 2017, 75% of all revenue generated by video game companies in Canada was attributable to other markets, primarily the U.S. (46% of export revenue) and Europe (42% of export revenue).[12]
In 2017, the launched the Toronto Videogame Database, a resource which lists over 1,000 games made in Toronto and the surrounding area over the last 20 years. A total of 236 creators (including developers, publishers and others) were identified, each of which had created an average of 3.43 games. Almost two-thirds of games were for PC, 29% for mobile devices and 11% for consoles. Hand Eye Society[13]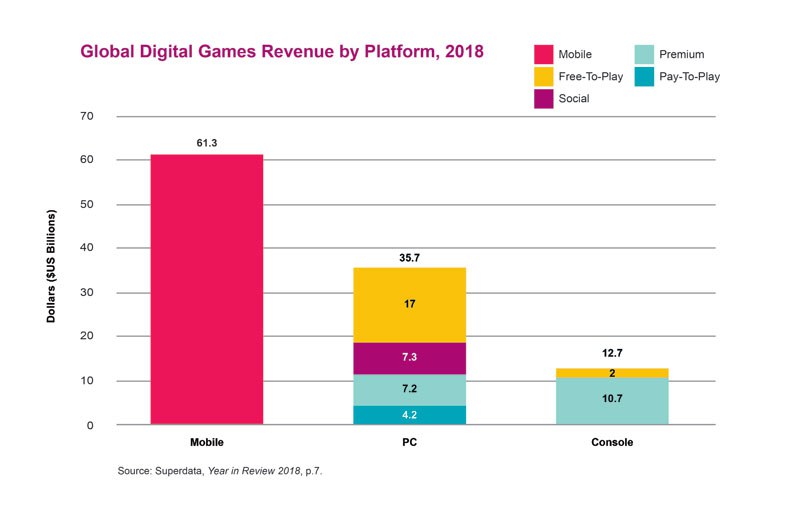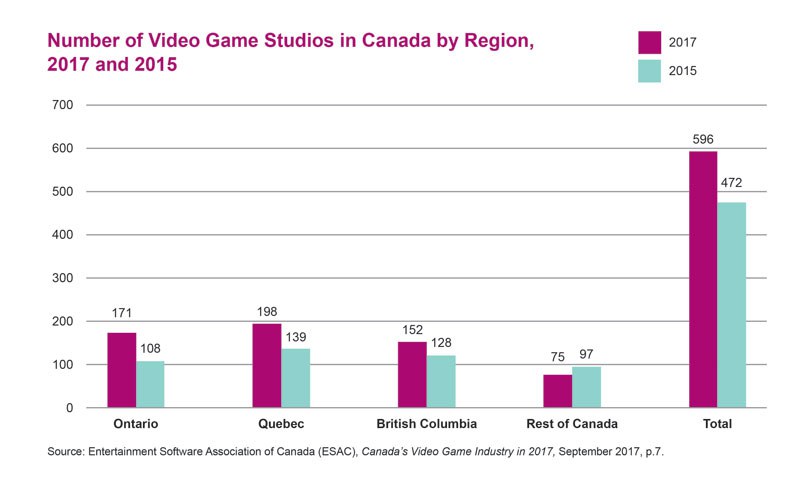 Consumer Market
According to the 's Entertainment Software Association of Canada (ESAC)Essential Facts 2018, 61% of Canadians consider themselves gamers, and 64% of Canadians have actually played games in the past month—50% of them male and 50% female, with an average age of 39.[14]
In the 12 months prior to June 2018, Canadians spent $1.35 billion on online gaming subscriptions, game downloads and in game purchases, 17% of all spending on digital products. Over three-quarters of men aged 18-24 (78%) spent on these products, with an average annual spend per buyer of $380.[15]
Gaming is a highly engaging activity, with active users playing console games an average of 51 daily minutes, and mobile games an average of 35 daily minutes. The length of mobile daily gaming sessions also increased 33% between July 2015 and March 2017.[16]
Broadly there has been an evolution occurring from individual play to global collaborative play. There is a growing trend toward observing others playing games, both via online streaming (using platforms such as Twitch) and in person, in terms of esports spectatorship.[17] Average daily streaming hours for Twitch rose considerably between 2012 and 2017.[18] While China is the global esports leader, 16% of Canadians online 12 years and older engage in esports activities, making Canadians enthusiastic players.[19]
Trends and Issues
Growth rate and industry trends
Global and Domestic Issues
Canada reached an agreement with the United States and Mexico on a new free trade agreement, known as the Canada-United States-Mexico Agreement (CUSMA). The agreement is expected to be ratified and implemented shortly. The agreement includes provisions around digital trade, intellectual property, small-and medium-sized businesses, and competition policy. The cultural exemption was preserved in negotiations.[38]
In September 2018, the federal government announced results of Economic Strategy Tables set up by , including one focused on digital industries. Made up of industry representatives, the Tables had been charged with setting growth targets and road maps for their sectors. The Digital Industries Table was chaired by Tobi Lütke, CEO of Shopify. The resulting report urges leadership around AI, scaling up businesses, with an emphasis on anchor firms (those with at least $1 billion in revenue) and calls for the federal government to modernize the SR&ED tax credit to increase support for commercialization. It also highlights the need for skilled digital talent and the urgency of increasing Canada's supply and stemming "brain drain" of tech graduates. It is stated that virtual and augmented reality could become a significant competitive advantage for Canada due to early leadership and development in VR/AR content and technology. Innovation Science and Economic Development Canada[39]
In June 2017, the federal government announced a new Global Talent Stream of the Temporary Foreign Worker Program as part of the Global Skills Strategy, aimed at attracting highly-skilled high-tech workers from abroad. The news was welcomed by industry groups such as the , as the changes should allow member video game studios to attract global talent in a more efficient and timely fashion than was previously possible. In 2015, 13% of the video game work force in Canada was hired through the Temporary Foreign Worker Program. Entertainment Software Association of Canada[40]
Approximately 25% of the workforce within IDM in Ontario is female. has launched several initiatives aimed at addressing the diversity gap in the IDM industry, including the Interactive Ontarioapprenticeship program which provided placements at leading digital media companies to diverse candidates and a Diversity & Inclusion Toolkit.[41]
Canadian VR companies surveyed in the 2017 Pulse on VR study identified maturity of the market as the most significant challenge, followed by access to private finance and public funding.[42]
There is currently a regulatory freeze on new game launches in China. Nonetheless, the mobile games market in Asia grew 18% year-over-year, which SuperData attributes to existing successful titles.[43]
Teenagers are increasingly spending significant amounts of time online, a phenomenon dubbed "hyperconnectivity". Among American 13-17-year-olds, 95% own or have access to a smartphone and nearly half admit to being online "almost constantly". There is some self-awareness and concern about the situation, however, with 52% of U.S. teens saying they have taken steps to reduce the amount of time they spend on their phones, including time spent on social media (57%) and video games (58%).[44]
Government Support
In 2018-19, Ontario interactive digital media producers have access to public funding through the Ontario Interactive Digital Media Tax Credit (OIDMTC) and the Ontario Creates Interactive Digital Media (IDM) Fund. Support from Ontario Creates provides opportunities for producers of interactive content to create new products, access existing and new markets and grow their business through the IDM Fund. IDM Fund programs include: Production, Concept Definition, Global Market Development, Marketing Support and Industry Development, which provides support to trade organizations for events and activities that stimulate the growth of the industry. In 2018, as part of the Industry Development program, the IDM Fund supported emerging digital companies with training activities through the IDM Fund Futures initiative.
In launching the Creative Canada federal policy framework, the Government of Canada announced additional support for the including investing a minimum of $40 million per year in the Experimental Stream. A new Creative Export Strategy will have $125 million over 5 years allocated to expanded export opportunities for creative entrepreneurs. Canada Media Fund[45] This includes a new $7-million-per-year program, Creative Export Canada, open to all creative industry sectors including interactive digital media.
Industry Recognition
Ontario is home to a thriving IDM industry that includes many independent firms creating award-winning products:
Profile current as of January 30, 2019