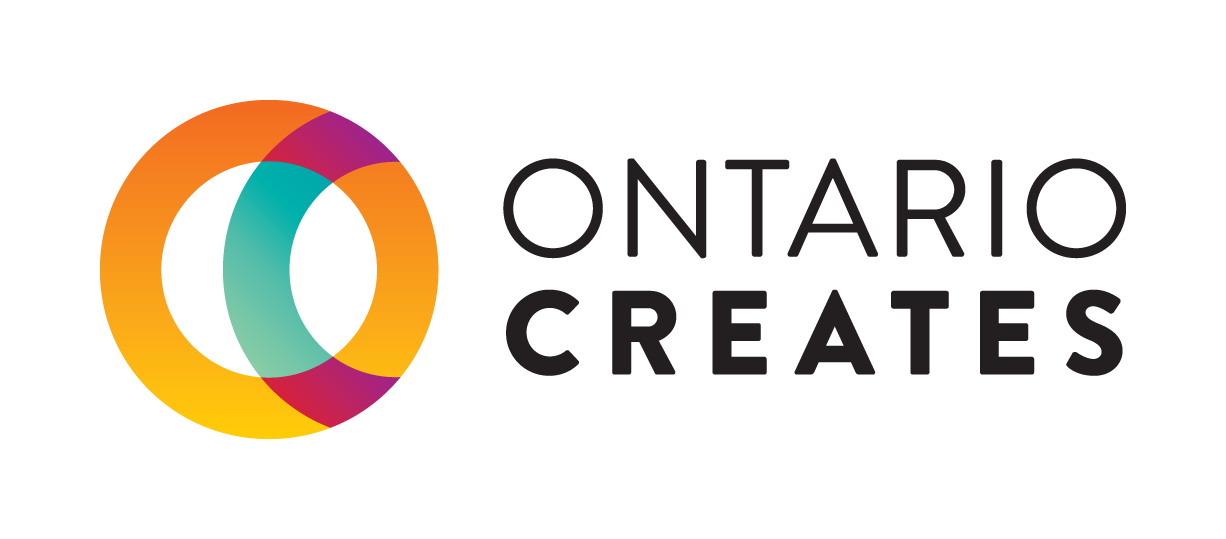 Industry Profile - Music
COVID-19 Update
The music industry is facing a number of significant obstacles as a result of COVID-19. These include the cancellation of live events and closure of live venues; restrictions on non-essential travel; and the difficulty or impossibility of performing some jobs while working remotely. Recovery efforts will be hindered by a major decrease in consumer confidence due to continued safety concerns.
It is predicted that global music revenue will drop by 25% this year due to COVID-related fiscal and operational challenges. The majority of this is tied to the live music sector, with earnings estimates dropping by over 75% from pre-pandemic projections. Publishing revenue is expected to drop by 5%, and recorded music revenue by 8%.[i]
In a Canadian Independent Music Association (CIMA) national survey of the music industry, over 96% of respondents indicated that COVID-19 was having a negative impact on their business, and of those, 78% indicated that they had unrecoverable expenditures in 2020 due to cancellations and postponements of industry events. Ninety-five per cent of CIMA member companies indicated that they have had or anticipated having reduced gross revenues in 2020, and 32.4% indicated an anticipated shortfall of 50% or more.[ii]
Artists, performers and music businesses overall have indicated being in a challenging financial situation, with only 13.5% of artists and 42.2% of companies able to sustain themselves on reduced or no income for over 3 months. Almost half of survey respondents who have staff said they anticipated reductions, and well over half of live music businesses have already laid off employees.[iii]
The Canadian live music industry is particularly struggling following shutdown of mass gatherings. A call for support from the Canadian Live Music Association indicated that 96% of responding live music companies are at risk of failure or have already failed. This is of particular concern as up to 70% of live music members have not been able to access federal programs due to eligibility criteria.[iv]
A study by Abacus Data indicates that COVID-19 will have a lasting impact on people's comfort with going to public venues. Between 33-47% of Canadians said they wouldn't feel comfortable going to a domestic live show depending on the type of venue, and up to a quarter said they will probably never feel comfortable doing so again.[v]
Streaming popularity has not been seeing the global uptick many expected during early days of social distancing. Experts theorize that the break in normalcy brought on by quarantine is affecting how and why people choose to listen to music, with occasions like commuting or getting ready for a night out no longer available. Lack of promotion of new releases may also be responsible, as artists are no longer able to give interviews or go on release tours.[vi]
In spite of this lack of broader uptick, however, Canadians report consuming more music and watching more music videos and online concerts than ever before, in numbers ranging from 245% to 35%, depending on the type of music media. Almost 80% also identify listening to music as a way to help relieve stress.[vii]
Please visit Ontario Creates' website for more information on our COVID-19 response plan.
i Dylan Smith, "Goldman Sachs: Global Music Revenue Will Drop 25% in 2020," Digital Music News, May 19, 2020.
ii Canadian Independent Music Association, Urgent COVID-19: Measuring Impacts on the Music Industry, March 2020, pp. 14-15, 17. Canadian Independent Music Association, COVID-19 Impact on CIMA Companies, April 2020, pp. 19, 24.
iii Canadian Independent Music Association, Urgent COVID-19: Measuring Impacts on the Music Industry, March 2020, pp. 22-23, 24, 27; Canadian Live Music Association, The Unimaginable is in Motion, May 13, 2020, p. 4; Canadian Independent Music Association, COVID-19 Impact on CIMA Companies, April 2020, pp. 25
iv Canadian Live Music Association, The Unimaginable is in Motion, May 13, 2020, p. 2.
v David Coletto, "The Locked-Down Blues: Canadians, Live Music, and the Pandemic," Abacus Data, May 14, 2020.
vi Torsten Ingvaldsen, "Music Streaming Reportedly Declining Due to Coronavirus," Hypebeast, March 19, 2020; Eamonn Forde, "Everyone's stuck at home – so why are people streaming less music?" The Guardian, April 17, 2020.
vii David Coletto, "The Locked-Down Blues: Canadians, Live Music, and the Pandemic," Abacus Data, May 14, 2020.
Interim Update to September 2019 Profile
August 2020
On-demand audio and video song streams increased dramatically in Canada in 2019, with the number of audio streams increasing by 31.2% and video streams increasing by 59.7%. In contrast, sales declined almost across the board, with physical album sales declining by 23.3%, digital album sales by 24.5%, CD sales by 26%, and digital track sales by 27.6%. The only medium to see a sale increase was vinyl LPs by 2.2%.a
Video music streaming is becoming increasingly popular in Canada. In 2019, the average music listener spent 33% of their 30 hour weekly listening time streaming, marking a 5% increase from 2018. Twelve percent said they were likely to buy into a subscription service within the next month, and 52% said they are willing to watch ads in exchange for free videos, suggesting that there is continued profit to be gained from these audiences.b
Internationally, both video and audio streaming are increasing, with 89% of respondents to a 2019 ifpi survey indicating that they listen to music through on-demand streaming, for an average of four hours per week for audio streaming and 3.5 hours for video streaming. While ages 16-24 are the most prevalent users of streaming platforms, the greatest growth can be seen in the 35-64 age brackets.c
Music piracy rates have dropped worldwide since 2018, with 27% of music listeners having accessed unlicensed music within the previous month, a significant decline from the 38% reported in 2018. Stream-ripping has also declined from 32% to 23% in 2019. One theory to explain this shift is that the increase in availability of legal streaming sites such as Spotify and Apple Music has made affordable or free listening more accessible.d
Younger audiences are more engaged with music than previous generations. A report by VICE Media on the consumption habits of Gen Z indicate that music is their primary focus for cultural content consumption, whereas it falls in second place for Millennials. Ninety-one percent of Gen Z youth interviewed said they listen to music on a weekly basis, and 54% identified it as a weekly activity, as opposed to 43% of Millennials.e
Indigenous music was a key contributor to the Canadian music industry in 2018, with a GDP contribution of close to $78M, and over 3,000 full time jobs supported nationally. The average income earned by Indigenous artists in Canada is $47,200, but almost half of this is non-music income. [Additional data available for longer bullet point if necessary]f
StubHub has been fined $1.3M by Canada's Competition Bureau for deliberately deceiving consumers. StubHub was found to be advertising tickets for prices substantially less than the final charge, which often incorporated significant transactional fees only made known to the purchaser at checkout.g
Artificial Intelligence (AI) is making inroads into the music industry in a number of ways. In spring of 2019, Warner Music signed a 20 album contract with Endel for AI-generated music, paving the way for a number of conversations about authorship, copyright, and creativity. In early 2020, iHeartMedia (parent company of iHeartRadio) laid off hundreds of employees, replacing them with AI and other technological investments.h
Music publishing, and particularly music publishing exports, have been an increasingly strong economic driver in Canada. Fifty-eight per cent of respondent organizations to a 2018 Canadian Music Publishers Association survey had headquarters in Ontario, and 92% of revenues generated by the industry are also based out of the province.i
Ontario was well represented in Grammy nominations at the 2020 Grammy Awards. Jessie Reyez (Being Human in Public) was nominated for Best Urban Contemporary Album, Drake was featured on Best R&B Song nominated track "No Guidance" by Chris Brown and Best Rap Song nominee "Gold Roses" by Rick Ross, Shawn Mendes was nominated for Best Pop Duo/Group Performance for "Señorita" with Camila Cabello, and Daniel Caesar was nominated for Best R&B Performance for "Love Again" with Brandy.
Ontario also performed extremely well at the 2020 JUNO Awards, which were presented virtually in June. Over half (24 of 42) categories were awarded to Ontario creators, including Best Pop Album (The Pains of Growing Up by Alessia Cara), Artist of the Year (Shawn Mendes),  Music Video of the Year (Iskwe) and Best Album awards in nine different genres, many of which were supported by the Ontario Music Fund.
Ontario Creates Industry Profiles receive a full update once per year. The interim update summarizes key changes approximately six months after the profile's release.
a External Source, "By the Numbers: Canada 2019 Year End Music Report," FYI Music News, January 9, 2020.
b FYI Staff, "Canada 360: Stats On Music Streaming Platforms," FYI Music News, August 19, 2019.
c ifpi, Music Listening 2019, 2019, p. 9.
d Paul Resnikoff, "Music Piracy Rates are Plunging in 2019 – That's Good News, Right?" Digital Music News, September 25, 2019.
e VICE Media, Gen Z: The Culture of Content Consumption, 2019, pp. 4-5.
f External Source, "Indigenous Music Contributed Almost $80M to Canada's GDP in 2018", FYI Music News, November 18, 2019.
g Marsha Silva, "Canadian Authorities Fine StubHub Nearly $1 Million for Deceiving Customers," Digital Music News, February 18, 2020.
h Michael McCarty, "Is AI beneficial to music creators?" The Globe and Mail, July 4, 2019; Paul Resnikoff, "iHeartRadio Just Replaced Hundreds of Human Workers with 'Technology and Artificial Intelligence (AI)'," Digital Music News, January 15, 2020.
i Music Publishers Canada, "Music Publishers Canada and Minister MacLeod discus growing Ontario's creative and export-focused music publishing industry," Cision, December 16, 2019.
September 2019 Profile
Introduction
Ontario's music industry is the largest in Canada, and is made up of a wide range of participants in all parts of the value chain involved in the creation, writing, production, publishing, distribution and presentation of original music. The industry includes musicians, songwriters, record labels, managers, agents, music publishers, concert promoters, presenters and more. The sound recording and music publishing landscape in Canada is dominated by large foreign-owned companies but has a strong independent sector comprising mainly small- to medium-sized companies. The vast majority of Canadian content is commercially released by Canadian-owned and controlled independent music companies.
Industry Size and Economic Impact
The following information on revenue, employment, and the consumer market should be considered a snapshot of activity in the industry based on the best available information.
Employment and Wages
In 2017, the Ontario music publishing and sound recording industry generated almost 4,000 jobs, accounting for 42% of industry jobs nation-wide. This figure is approximately on par with the number of jobs generated in 2016.[1]
In 2017, the sound recording studio industry spent $18.5 million on salaries, wages, commissions and benefits, and the record production and distribution industry spent $59.1 million.[2]
A report commissioned by estimates that in 2013, Ontario's live music industry generated 7,300 direct impact FTEs (Full Time Equivalents), 2,200 indirect impact FTEs, and 1,000 induced impact FTEs, for a total of 10,500. The live music industry also generated $152 million in direct labour income, $105 million in indirect labour income, and $48 in induced labour income for a total of $305.5. Music Canada[3]
Revenues and Related Figures
In 2017, Ontario exported close to $226 million in music publishing and sound recording internationally, up 11% from the previous year. This accounted for slightly over 60% of Canadian music publishing and sound recording international exports.[4]
In 2017, music publishing and sound recording generated $362.2 million in provincial GDP, up 5% from 2016. This accounted for 57.8% of the Canadian total GDP generated by this sector.[5]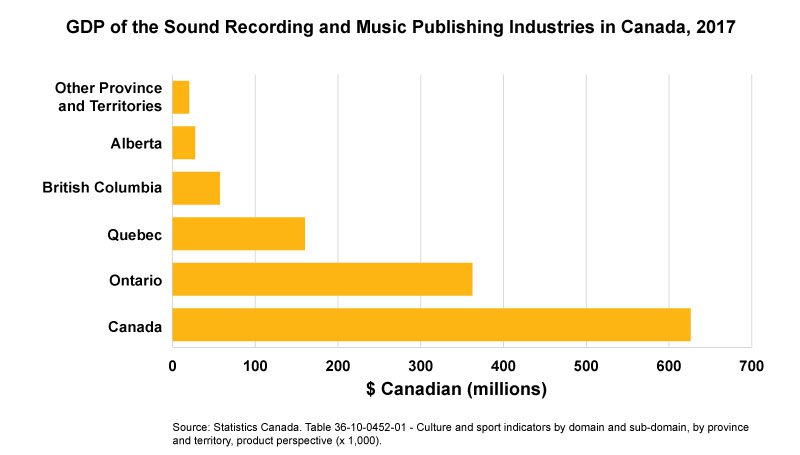 Consumer Market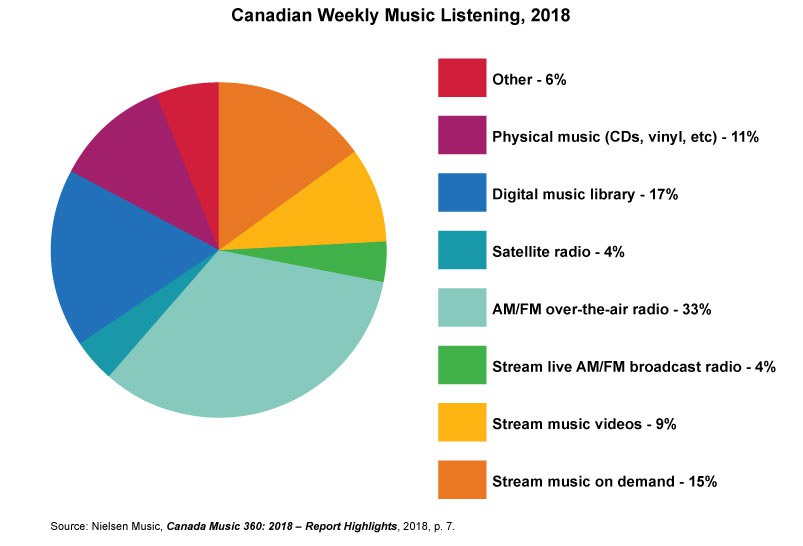 Statistics show a trend towards consumers listening to individual songs, rather than complete albums. In 2017, the number of total songs consumed increased by 40.1% from 2016. However, the total number of albums consumed only increased by 3.2%. This is likely due to the increase in stream usage, with subscription streams increasing by 85.6% between the two years, and ad-supported streams increasing by 30.0%.[18]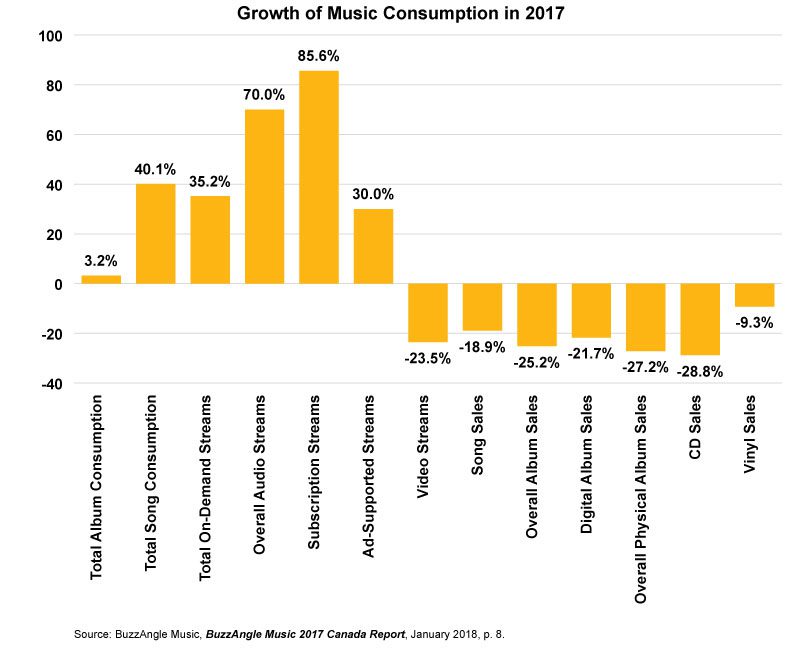 In 2018 in Canada, there were over 59 billion audio song streams, a 47% increase from 2017. The volume of on-demand music streaming including videos also increased, by 45%. Digital consumption increased by 22%, and vinyl by 25%. Total album equivalent audio consumption (which consists of albums, track equivalent albums, and on-demand audio streaming equivalent albums) has increased by 21%.[19]
Live music makes up 57% of total annual music spending for Canadians. More than half of Canadians (58%) attend at least one live music event per year, presenting significant opportunities for brands to engage with concertgoers.[20]
MTM released its Music Streaming Services report in October 2018. The report noted that one-third of Anglophone Canadians now listen to a streaming service, and that the groups most likely to use a music streaming service are Gen Zs (age 18-28), Gen Ys (age 29-37), and students. The most popular service among streamers is YouTube (93%), but other options are showing potential for growth.[21]
Trends and Issues
This section provides information on industry growth rates, trends, and burgeoning issues for the Canadian music industry.
Growth Rate and Industry Trends
The majority of this growth will be fueled by music streaming revenue, which grew by 28.8% in 2018, and is predicted to continue rising at a 12.2% CAGR between 2018 and 2023. Conversely, the revenue for physical recorded music is expected to decline, showing -8.5% CAGR over the same time span. Music downloading revenue has been hit even harder, dropping by 56.3% between 2013 and 2018, and is expected to continue to decline at -22.7% CAGR between 2018 and 2023.[24]
Global and Domestic Issues
In August 2018, the CRTC announced that from 2019 to 2022 major television groups in both language markets will be required to allocate an average of $5.5 million per year to support the production of musical programs by FACTOR and MusicAction.[33]
On the basis that it would have been unenforceable, in April 2019 the Ontario government abandoned a proposed amendment to the Ticket Sales Act designed to make scalping less profitable by capping ticket resale prices at 50 per cent above original face value.[34]
The 2019 Provincial Budget included a significant cut to the Ontario Music Fund (OMF), reducing the fund from $15 million to $7 million per year. Industry consultations will be held to determine how the OMF should be changed going forward to reflect these cuts.[35]
A coalition of 42 music community groups formally signed "The Canadian Creative Industries Code of Conduct," which aims to combat harassment, discrimination, violence and bullying within the Canadian music community. An Education, Training and Safe Support Committee has been formed by members of the coalition to provide training and resources to music industry professionals in these areas.[36]
The established a national training program to teach live music industry professionals about ensuring safe spaces and practicing harm reduction to reduce overdose, harassment, assault and discrimination. Canadian Live Music Association[37]
Toronto record label announced an initiative to better serve the mental health of the acts it signs, allowing a stipend of $1,500 to be spent at the discretion of the artist or band on mental health related expenses. Royal Mountain Records[38]
In February, the U.S. Copyright Royalty Board officially published a 44% increase to royalty rates for songwriters and publishers. However, the increase was challenged by Spotify, Pandora and Google, supported only by Apple. David Israelite, president of the American National Music Publishers' Association (NMPA) accused the streaming companies of "declaring war" on songwriters by challenging the increase.[39]
released a report which discusses further steps in addressing the "value gap," namely the divide between artistic content creators and companies who profit from the distribution of the content. "Value gap" is calculated by comparing the inflation and real GDP growth since 1997 with reported music revenues. This study finds that the value gap for Canadian recorded music since 1997 is $19.3 billion, with $1.6 billion in 2017 alone. Music Canada[40]
As part of the federal review of the Canadian Copyright Act, the released its report, Standing Committee on Canadian HeritageShifting Paradigms, which looks at remuneration models for artists and creative industries. The report calls attention to failings in Canada's safe harbour laws, recommends combating modern forms of piracy, and suggests removing from the Act exemptions that limit fair compensation for creators.[41]
Concluding the Copyright Act review, the released its report, Standing Committee on Industry, Science and TechnologyStatutory Review of the Copyright Act. The report made 36 recommendations related to radio royalty exemptions, safe harbour provisions, copyright terms, private copying, and other issues.[42]
Streaming services are improving discoverability for bands in secluded regions such as many parts of Northern Canada. However, as a result of increased streaming, these bands are forced to rely on touring and live shows as their major source of income rather than album sales.[43]
A 2019 report about representation of gender, race and ethnicity in music recording released a number of findings about the presence and absence of minority demographics in the industry.

Across 600 examined songs between 2012 and 2018, no more than 28.1% were by female artists, with an average per year of 21.8%, and a low of 16.8% in 2017. The representation of women in non-performing roles was even lower, with 12.3% female songwriters and only 2.1% female producers.[44]
A higher percentage of artists were members of what the report refers to as "underrepresented racial/ethnic groups," with a low of 30.7% in 2013 and a high of 55.6% in 2018, with a yearly average of 44%.[45]

Apple announced that it will be shutting down its 18-year-old iTunes in favour of creating separate apps for music, TV and podcasts on Apple devices. iTunes will continue to function as it is on Windows PCs.[46]
Government Support and Other Funding
Industry Recognition
Ontario's music industry produces a number of critically acclaimed and best-selling artists, labels, and events:
At the 2018 Awards, Ontario's Shania Twain won the Apple Music Fans' Choice Award, Meghan Patrick won the Female Artist of the Year award, The Reklaws won the Sirius XM Rising Star award and Single of the Year and Top Selling Canadian Single of the Year went to Chills, by James Barker Band. CCMA
For the second consecutive year, Drake took home the three largest BuzzAngle Music awards: Artist of the Year, Album of the Year, Scorpion, and Song of the Year, God's Plan.
At the 2019 JUNO awards, Avril Lavigne won the JUNO Fan Choice Award. Shawn Mendes won five awards, including Artist of the Year, Single of the Year for "In My Blood," and Album of the Year for Shawn Mendes. The Arkells won the award for Group of the Year, as well as Rock Album of the Year for Rally Cry. A number of Ontario artists won Album of the Year awards, including Bahamas (Adult Alternative Album of the Year for Earthtones), Dizzy (Alternative Album of the Year for Baby Teeth) and Jeremy Dutcher (Indigenous Music Album of the Year for Wolastoqiyik Lintuwakonawa).
At the 2019 Grammy awards, Drake won Best Rap Song for "God's Plan." Daniel Caesar won the award for Best R&B Performance for "Best Part," a collaboration with H.E.R.
At the Prism Awards, the music video for "Work" by Charlotte Day Wilson (directed by Fantavious Fritz) won the Grand Prize. "Freudian, a Visual" by Daniel Caesar (video by Keavan Yazdani and Sean Brown) won the Audience Award.
Toronto-based artist Jeremy Dutcher won the 2018 Polaris Music Prize for his album Wolastoqiyik Lintuwakonawa.
Profile current as of August 2, 2019